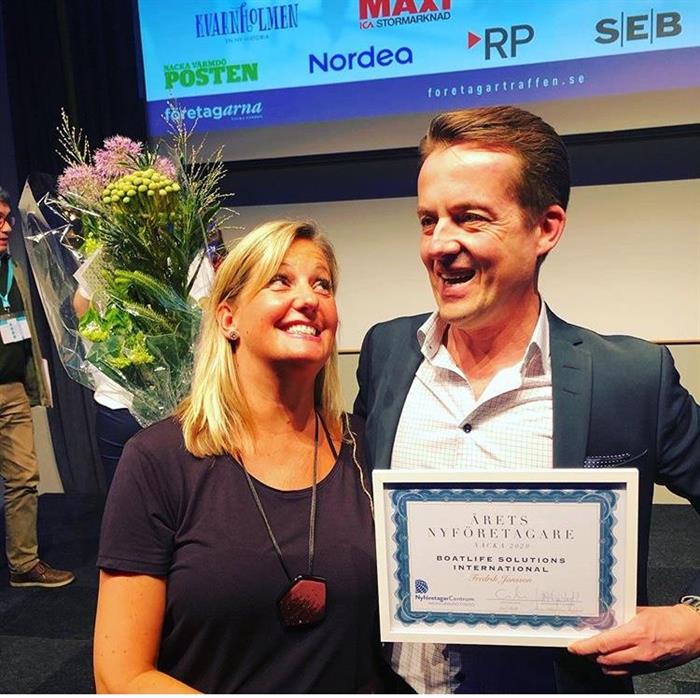 Boatlife Solutions International was crowned last week as "New Entrepreneur of the Year"
A new milestone achieved last week for BSI!
Boatlife Solutions International was crowned last week as "Entrepreneur of the Year" in Nacka/Stockholm.
During the annual event Nacka Business Meeting on February 20, 2020, awards were given to companies in different categories. Boatlife Solutions owner and CEO Fredrik Jansson received the prize for "New Entrepreneur of the Year in Nacka".
The jury's motivation: An example for beginners Justification:
This year's New Entrepreneur in Nacka is an example for newcomers. For 100 nights aboard his sailboat, many nautical miles out in the Stockholm archipelago along with his ship cat Bamse - he wanted to change his existence as business manager in medical technology. Realizing a dream and working on what he loved - boats and sea life. He wanted to do his own business internationally. To become his own boss. Without real insight into entrepreneurship, he left his employment and carved out his own business concept. With enthusiasm and energy he has already succeeded in establishing his company and his products in the market in the leisure-boat and motor-home/RV industry. We also see exciting innovations on the way… He receives the award for inspiring his experience of international trade with a passionate boating interest. The Award New Entrepreneur of the Year in Nacka 2020 goes to Fredrik Jansson, who runs the company Boatlife Solutions AB.
The business meeting consisted of an exclusive morning for exhibitors, with networking and seminars. At lunch, the Business Meeting opened for visitors and the exhibition was in full swing, with several rewarding speakers and keynotes. In the afternoon / evening there was an award ceremony and entertainment. On February 20, 2020, a day was filled with new ideas, contacts and business opportunities - this year's energy boost!
https://www.foretagartraffen.se/vinnare-2020/