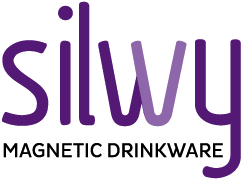 Never again falling, slipping or rattling drinkware: silwy is revolutionizing the worldwide drinkware market with THE magnetic invention. Whether in planes, trains, mobile homes, on the water, at home or in autonomous cars in the future - silwy magnetic drinkware find their perfectly matched counterpart in flexible, metallic NANO-PADS or metallic accessories that have already been specially developed for silwy. These pads adhere to nearly all surfaces, can be removed without leaving any residue, are washable and can therefore be used over and over again. For the plastic cups, there are tight-fitting lids for a 100% spill-free experience.
Storage solutions
The silwy metal stripes provides completely new storage solutions with an eye-catching guarantee. Glasses and cups are magically fixed and the annoying problem of falling glasses is finally solved. Secure storage system for your silwy magnetic glasses - upside down, diagonally or vertically. With silwy there are completely new, cool ways to store glasses in a space-saving and stylish way. The silwy metal strip is constructed with an integrated metell core and an anti-slip coating. Thanks to the permanently adhesive, double-sided adhesive strips, the strip can be attached to almost any surface.
silwy Magnetic Hooks & Pins
Simply attractive and very smart. No more drilling, gluing or screwing. With the multi-flexible silwy Magnetic Pins and Magnetic Hooks, there are completely new possibilities to hang up posters, presentations, drawings, cards, notes, towels, kitchen aids and much more and to place them in different positions as often as you like.
Product news
silwy Side Tables - Minimalistic design meets solid wood and powder-coated steel - the perfect mix for a range of different multifunctional silwy tables. The wooden top can be used as a tray - in combination with the silwy metal nano-gel pads and magnetic glasses, falling glasses belong to the past. Another cool thing is that the glasses can be stored upside down on the metallic underside.
Store Displays
There are also clever tailormade store displays in wood that silwy has developed especially for their product range. They have sloping shelves to create maximum attention and understanding of the concept for the customers. If the magnetic glasses are dispayes on a horizontal shelf, it is easy to pass and think they are ordinary drinking glasses. There is a table / shop window model and a floor variant. The larger model is the one that most stores use. It has sloping shelves where you place glass and cups on coasters and metal stripes. The product packaging is placed next to it.
SIlwy became the German Innovation award winner 2018, now selling their amazing patented products all over the world!
Boatlife Solutions International is the general agent for silwy in Scandinavia, Finland, United Kingdom, and the Baltic States.

If you are interested in becoming a reseller for silwy products or have any questions, do not hesitate to contact us